Halogen-Free Installation Completion Annoncement
2009/12/29


SeCoS & its subcontractors are committed to integrating a complete environmental management throughout all our daily processes and operations.
As commonly know, molding compounds are the main raw material where Br (bromine, approximately 10000 ppm, 0.7 ~ 0.8 wt %) is used. At the end of 2008 Q2, we have already started introducing halogen-free goods to the market. By December 2008, we have introduced a halogen-free version to all the products we carry. It is a milestone in achieving full compliance to our environmental standards.
To distinguish between non-halogen-free and halogen-free products, we can look at our carton or reel labels:
The suffix "C" will be added to all Halogen-Free product to differentiate from the non-halogen-free products. (See the following picture for the sample part name)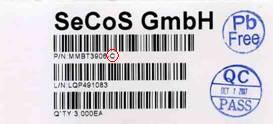 At customers' request, we will be providing Halogen-Free product samples for reliability and performance tests.
Date: December 29th, 2008
Download :


Previous page